Percorso

: HOME > English > St. Augustine Historical-Cultural Association
The Center or the St. Augustine Historical-Cultural Association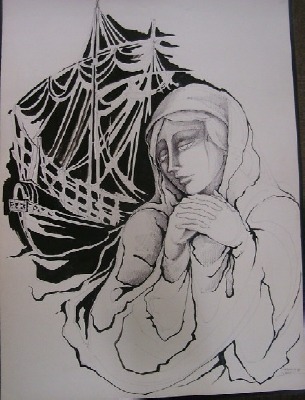 Monica and escape of Augustine
The Center or the St. Augustine Historical-Cultural Associationá
In 1967 the St. Augustine Historical-Cultural Association was born, whose task is that of increasing the value of the Augustinian tradition through publications, exhibitions, meetings. A historical-archaeological park was created in 1986; here is a beautiful monument dedicated to Augustine and Monica, a work of art of the Master Enrico Manfrini.
A collection of all the Augustinian evidences in Cassago can be found in the seat-museum of the St. Augustine Association.
Since 2002 the website www.cassiciaco.it has been giving a lot of information about Cassiciaco, Augustine and the history of the Augustinian Order.
This Association has a Center, located in the former parish house (Cononica Parrocchiale), which houses an Augustinian Library and books of historical interest for the Cassago region. The Augustinian friars have never had a friary or church in this town. The Association is composed of dedicated townspeople, many of whom are scholars, who have a deep love for St. Augustine.
They consider themselves as having a kind of 'Augustinian vocation', namely to dedicate themselves to ongoing research in the 'Cassiciaco di S. Agostino', especially in relation to establishing as a certain fact that Cassago Brianza is the definite location of Augustine's Cassiciacum. This group is also committed to the study of Augustine's writings and his monastic heritage. For several years, an entire week, 'The week of St. Augustine', is dedicated to serious study of Augustine in the month of August, coinciding with bis feast dar on August 28.
Scholars are invited to share prepared papers on themes relating to Augustine. Similarly, some years ago, members of the group traveled on a pilgrimage to Algeria to visit Tagaste, the piace of Augustine's birth, Madaura, the piace where he studied as a young boy, and Annaba, the site of Hippo Regius where Augustine was bishop for over thirty years.